Cycling has been increasingly popular in Singapore now! Thanks to Covid, many Singaporeans have already caved into the Cycling trend and are generally more interested in Luxury Folding Bicycles like the famous Brompton Folding Bicycle.
Why folding bicycles? With Singapore's squeezy homes and strict public transport rules & regulations, owning a non-foldable bicycle seems almost impossible and impractical. Hence why, folded bicycles are now so popular that you can spot them almost everywhere in Singapore. They're less bulky & very convenient!
Why Brompton?
The well-known Brompton Folding Bicycle can be classified as a luxury foldable bicycle.
With its impressive components, features, and durability, it is no wonder that consumers all around the world including Singapore, wouldn't mind forking out a hefty amount to purchase one for themselves.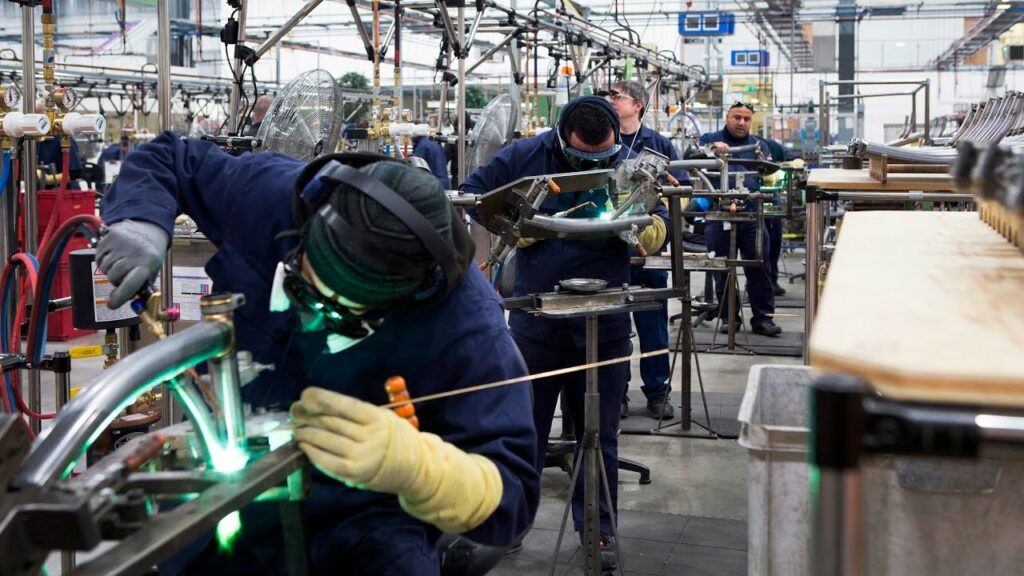 Fun Fact, did you know that Brompton bike frames are built by hand? The steel frames are pieced together using a process called brazing. The team of Brazers are trained in-house for 18 months and would each leave a small signature at the bottom of every frame to mark the maker.
Unlike other brands and bicycle types, Brompton is the kind of brand that would definitely capture the attention of anyone passing by because of its exclusivity. With the price you pay, it is indeed explainable.
Of course, not many people can afford to pay S$1,500 – S$6,700 for it. While it may be a good deal considering the quality & the intricacy of its building process, it's not as simple as that to have a huge sum of cash lying around.
There are indeed plenty of other Brompton Alternatives in the market that can at least satisfy your goal of owning a tri-fold bicycle. One which we would focus a lot more on would be the local brand Royale.
Royale Folding Bicycle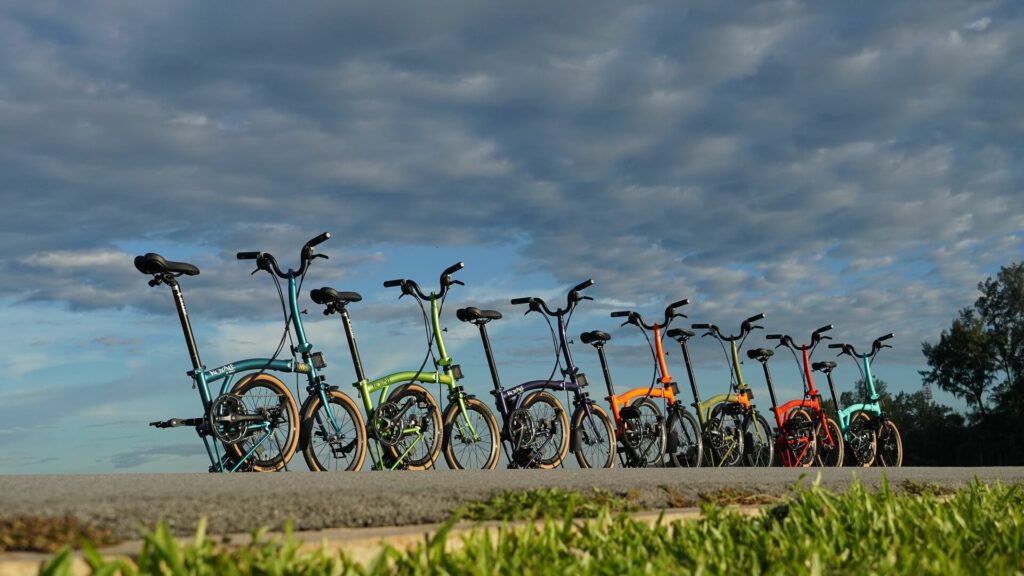 Founded by Mobot, Royale is a tri-foldable bicycle inspired by Brompton. This bicycle is highly ideal for riders looking for a super compact and portable bicycle for their commute! Royale is the perfect Brompton alternative!
Royale Folding Bicycle vs Brompton Bicycle; Which is Better?
Some of you may or may not have heard of Royale Folding Bicycle. What if we told you this bicycle has so much potential to beat other Tri-Fold Bicycles like Crius, 3sixty, and of course the Co-Star of this comparison, the Brompton Folding Bicycle.
Let's start off by comparing the main specifications of Royale & Brompton!
| | | |
| --- | --- | --- |
| Main Specifications | Royale Folding Bicycle | Brompton Folding Bicycle |
| Price | $1,299 to $1,699 | S$1,500 – S$6,700 |
| Speed | 3-speed, 6-Speed & 9-Speed | 2-Speed, 3-Speed & 6-Speed |
| Drivetrain | Sturmey Archer Drivetrain | Brompton Wide-range Drivetrain |
| Frame Material | Chromoly Steel | Chromoly Steel |
| Frame Dimensions (non-folded) | 1480 mm (L) x 540 mm (W) x 960 mm (H) | 1470mm (L) x 545 mm (W) x 980 mm (H) |
| Frame Dimensions (folded) | 600 mm (L) x 380 mm (W) x 630 mm (H) | 565mm (L) x 270mm (W) x 585mm (H) |
| Weight | 11kg to 13.4kg | 9.5kg to over 13kg |
| Max Load | 110kg | 110kg |
| Wheel Size | 16-inch | 16-inch |
| Colours | Wide Variety of colors & patterns | Wide Variety of colors |
Advantages of Royale Folding Bicycle compared to the Brompton Bicycle
Royale is about 75% Cheaper Than Brompton
Retailing from $1,299 to $1,699, Royale Folding is without a doubt a Perfect Brompton Alternative It has similar premium components, functions, and riding experience! Who said that you can't have a tri-fold bicycle that's affordable?
That's a definite Catch.
Wider Variety of Colour Choices
Royale comes in many exciting different colours! From dark colours like Black, to feminine colours like Champagne Pink, to even limited editions like the Royale Dragon Series!
Depending on the type of royale you choose, you will definitely have a hard time deciding on your colour choice.
Components are widely available and easily sourced/changed
Unlike the Brompton Folding Bicycle and their proprietary components, you can easily source out and replace these components on your own. These components include the seatpost, the brakes, the gearset and many more! You are not limited to only using the same brands royale used!
Trustworthy 9-Speed Drivetrain Brand
The Royale bicycle has 3 variations of drivetrain; 9 speed c/w STURMEY ARCHER 3 speed internal gear hub, 6 speed c/w STURMEY ARCHER 3 speed internal gear hub & 3 speed.
Brompton Bicycles are only up to 6-Speed Drivetrain.
For more than 100 years, Sturmey-Archer has been a pioneer in the design of internal gear hubs and have improved tremendously since they first started, producing high-quality products to date.
Similarities with Brompton
High-Durability Frame Material
The Royale Folding Bicycle is made up of Chromoly Steel, the same exact material used for the Brompton A, C and P lines as well! This material is much lighter than average steel while still maintaining similar strength. With that, it means that the frame would look sleeker, you can travel at faster speeds and comfortably maneuver!

A perfect material for the city and commuter bikes.
Compact Fold For Ultimate Convenience
Both the Royale Folding Bicycle and Brompton Bicycle adopt the Tri-Fold mechanism. This means that they have 2 hinges on the frame that enables the bicycle to be folded into 3 parts.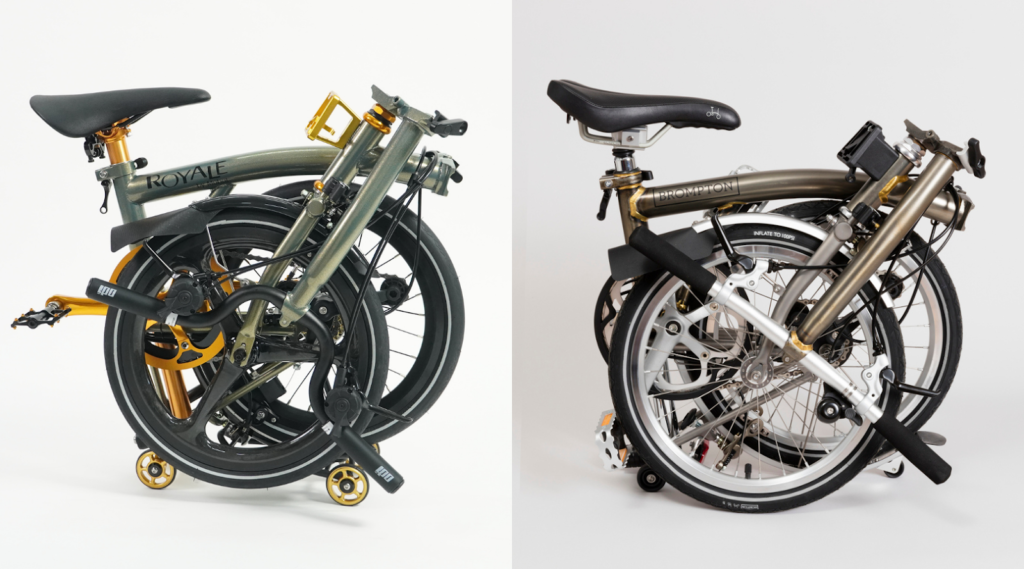 With the ability to be folded and stored into a box, it is easier to transfer between different modes of transport. The bicycle can be pushed or carried, making it a highly sought-after option for riders who commute using public transport.
Customisable Parts
Let's say you have purchased the Royale 6S Foldable Bicycle and you decide to upgrade to better components, you may do so! You may do certain modifications like changing the gearset to the gold-coloured gear set for a stronger personality, changing M-bar to T-bar (not vice-versa). Changing the speed to 9 Speed is also possible!
P.S. for every Royale purchased, you will get a FREE Front Bag that's worth up to $189! This bag is to be mounted at the front of your bicycles. Designs are very similar to the ones you can find on Bromptons!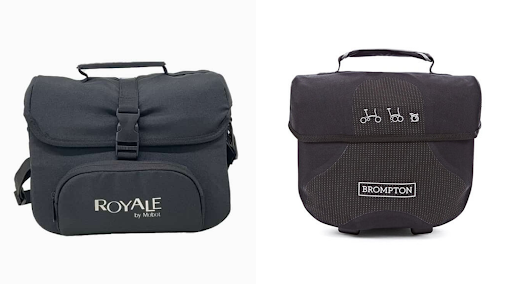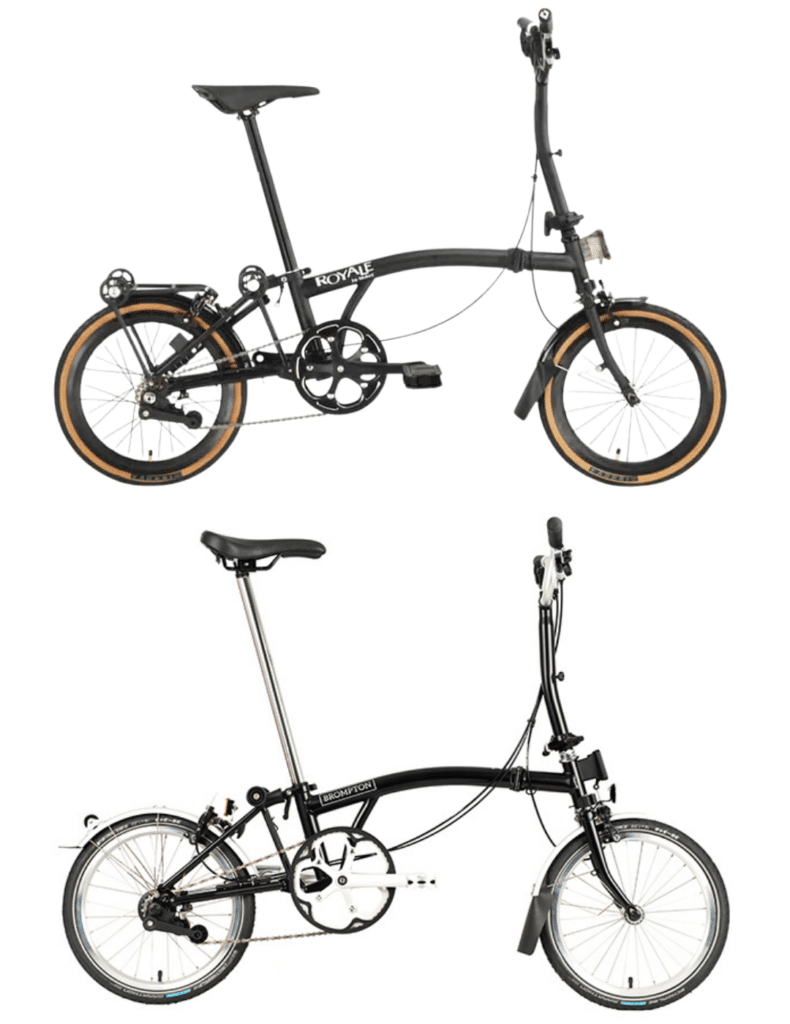 Is Brompton Overrated?
A Big Yes. It is super overpriced when you can actually find other brands like Royale or even 3Sixty, Crius, or many more that sell similar bicycles for a way lower price when compared with Brompton!
With the amount of money you spent on 1 of the most expensive Brompton, you could buy about 3 or 4 more Royales!
Royale is definitely the Brompton Alternative you've been looking for.
At Gill, in order to ensure all our products are made even more affordable and convenient for you, we also provide a variety of 0% Interest Instalment plans! Drop by our e-bike shop & bicycle shop to explore!
For more urgent enquiries, you can get in touch with us on Facebook, Carousell, or call us at 6734 9373. If you prefer dropping by to view our physical store, you may find us at Gill.
Read more bicycles, e-bikes and anything mobility related here!